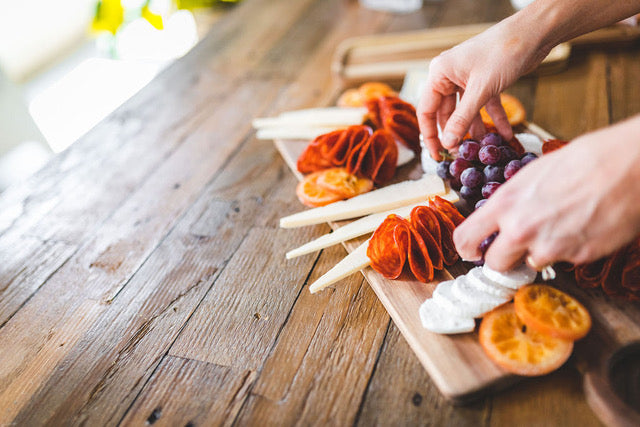 SERVING BOARDS AREN'T JUST FOR CHARCUTERIE
We love a good serving board and we love to come up with new ways to style them. A current customer favorite is our extra large
Communal Serving Board
that is over 30" long...lots of room for tasty treats for a good sized group and perfect for upcoming holiday get-togethers. Just to get your creative juices flowing, we've styled it three different ways.
Charcuterie Board:
A good meat and cheese board is always a hit with a group. There are so many amazing options out there for really good meats and cheeses. There are even decent dairy-free or goat milk options pretty readily available. We recommend using a few different types of meats, at least 2 cheeses, something crunchy (baguette slices and/or crackers) and something a little sweet (fruit, spreads and/or honey to drizzle). Our
Gold + Rattan Cheese Servers
are also perfect to place around your board to make it easier to munch.
Fiesta Board: A family favorite (and easy and quick to throw together for a simple but elevated weeknight dinner), this option includes chips, salsas, queso, guacamole and mini tacos. We grabbed these mini chicken tacos from the frozen section at Trader Joe's. They also had a beef option and any similar frozen appetizer or entree would work. You can heat them in the oven before placing on your board and they are the perfect size for dipping.
Sweets Board: Definitely a crowd favorite...the sweets board is pretty AND yummy. We've deconstructed ours for you but anything goes with sweets! We recommend varying colors, shape and textures to make it visually appealing but we also know no one would complain about an entire board of cookies or chocolates. 
Still deciding which board you'll make with it? It's a tough call...you might just need two or three!